As we came near on to our settlement for the next couple of nights, we grew wary as our guidebook informed us that this was a new listing for 2013. After seeing what some glorified tarmacced dumps (family reading) had passed year on year and this was not in a high tourist-tread area, we waited with baited breath as to what was going to greet us.
The clouds were still wringing out their last few drops as we pulled up by someone's garage and we were slightly taken aback by that someone appearing in the middle of the windscreen (a right-hand-drive vehicle with no habitation door on either side does somewhat confuse the continentals!). More arm-waving ensued that culminated in the ringing of a doorbell to fetch the frauline and pretty soon we were on a pitch, plugged in to the mains (50 cents per Kilowatt) and waiting for the sun to break through the clouds. All this with no anxieties and a "pay when you leave" attitude. Hot showers, cold food, cheap WiFi and a pooping place to boot. With the prospect of a 'pink sky at night' morning ahead, we slept deeply and sound(less)ly.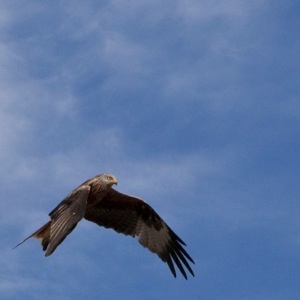 We woke to glorious sunshine and a warm if not somewhat damp in patches camper. We shared our breakfast with a family of ducks, got our bits together and headed off for a scout around the village with the cameras. We were joined on our jaunt by circling Black Kites, reminiscent of the Red Kites abundant in Benefield back home. We walked through the sleepy Sunday village along the riverbank into its equally dormant neighbour. Contented that, though shops were shut, there was at least three supermarkets on our doorstep ready to reload the supplies in the morning before our continued trek east tomorrow. We were actually more than contented as we had planned camperstops right through Germany, Austria and Italy up to Justina's departure from Venice on the 20th June.
We arrived back to our mobile home relaxed and weary and ready for tea. 5 missed calls on the mobile. 2 texts and 3 emails beating an urgent respondents. The storm clouds that we had been following southward had spent their day turning east before us and were battering our onward route before us. Sever weather warnings accompanying stories of evacuation, danger and even losses of lives. Roads and rivers closed and broken between the German and Austrian borders. What could we expect if we followed on behind? How much more water could Caravaggio keep out before she finally breaks under the onslaught? After all plans made had always excluded Switzerland and the Alps, could she cope with mountains? And, more importantly, can I get my pig-headed stubborn self to change my plans?
In the meantime we promised our loved ones that we would stay put at least until Tuesday and use the extra internet time to research the situation and weather reports (along with catching up with Facebook and emails etc). By the end of Monday evening we had exhausted the news reports, the gas (again) and our cash. This was proving a problem as few petrol stations, and fewer shops, accept credit cards, my only form of payment since the weekend as RBS have kindly blocked my debit card as something or someone had triggered a fraud investigation at a previous point of sale.
Studying our current position, we were grateful to find ourselves just 9 kilometres from the Swiss border. The journey in to Italy would be approximately 270 kilometres and doable in a day (7 hours according to the Sat-nav, or 3 in real life). We unpacked our woolly jumpers and wished we knew what car snow chains were as we hit the road…