Finally installed in a fenced off piece of Amsterdam, we knew we wouldn't want to miss the colourful side of her nightlife, so we took the opportunity of having a lie in and waited for the rain to pass.
We set off in a drizzle to find the ferry and happened upon a Halfords on the way, just the place to replace the cigarette lighter that had to be removed from the dashboard for blowing its fuses. This had also been a contender in the sat-nav playing silly buggers with the battery, as it seemed it only liked it's own charger instead of an extended rig of cables coming from the living area of the camper. Another outstanding issue crossed off the "To do" list!
Had a nice damp day wandering the streets of Amsterdam trying to find the elusive Red Light District, but took the chance to sample the delicacies of chips and mayo in a cone. Or rather chips and cheese sauce and chips, mayo, satay sauce and onions that Justina and I had respectively.
Eventually we discovered the covetted courtesan area of Amsterdam with its myriad of trussed up treasures like turkeys at Christmas, complete with fairy lights and exquisite wrappings, all be it tied with Velcro for easy access. I was disappointed for Holland, which had always been at the forefront of the gay rights movement and other liberal activities, for their not to be an alley dedicated to men for hire, be it for either men or women, as I was sure that it had been reported that this was they case. There were, however, various windows with girls displaying more sexual toys than all the sex shops put together, even couples taking on the girls themselves as sex toys.
We left the city after seeing too many British stag-night parties pissed out of their heads and encroaching on the locals, belittled by tour guides telling bewitched parties how things like this had been going on for years, "that pub with the bench outside is directly opposite the brothel, where they can sit and build up their 'Dutch courage' before visiting".
We headed out of Holland and it's incessant cyclists on Saturday afternoon and across the border into Germany. As our hometown of Peterborough houses the tomb of one of Henry VIII's wives, Katherine of Aragon, we thought it fitting to head to Kleve, seemingly the hometown of another of his wives, Ann of Cleves. After scrambling unexpectedly to the top of the Swan Castle's tower with 5 minutes to go before closing, it transpires that 'Cleves' was a region and Ann hadn't stepped foot outside if Cologne before being shipped off to England to marry a King, who then divorced her, uncontested and unconsummated, and lived out the rest of her life in Kent.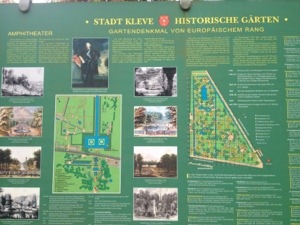 Sunday was a day of fair weather which included me removing my jumper, but not my coat for fear of not totally being convinced it wouldn't rain again at some point. We walked through some woods to get to a viewpoint overlooking the park we were camped next to and watch turtles play in their pond with impressively large koi. Monday we planned our route out through a small town called 'Rees', as was my grandfather's Christian name and I didn't want to miss a coincidence. The only coincidence it turns out, would have been if my grandfather had been in the film Cocoon.
With Germany apparently closed on Mondays, or that Monday in particular, and avoiding the obviously delectable delights of the lesbians in the camper stop in Wesel, we headed through the deserted old steel town of Duisburg, through Dusseldorf and headed for Koln (Cologne)…