We stayed on the campsite, Staadscamping in Rotterdam for what turned out to be three nights, partly because apparently Holland is shut on Mondays. Monday morning, after spending all day Sunday removing the dashboard in preparation for the camp site staff finding us a mobile mechanic – the one I Googled and called first thing wouldn't come out and see us – was then embarrassingly spent on the phone to ADAC breakdowns again in Germany. The camp staff didn't seem to grasp what I was asking for so called the boss, who kindly informed me that mobile mechanics were a luxury and that I should call ADAC again. Not knowing how many times I could call for the same problem that hadn't been fixed by the mechanic in Belgium, and not wanting to hit a limit of call outs this side of June, I had thought getting our own mobile mechanic was the way to go…
"You are in Holland?".
"Yes."
"You are not in Belgium?"
"No."
"But you are calling about the same problem?"
"Yes."
"But you drove your car with no indicators?"
"Yes."
"But that is illegal!"
"Well yes, but according to your man in Belgium I would have had to drive to the garage anyway! And now I can't drive because I have removed the dashboard as he instructed me to…"
After two hours of not being found by a mechanic ending his shift (he actually drove on to the campsite) I called ADAC back who told me they were having problems finding a towing truck!!! Towing truck at 4pm on a Monday when nobody is at work, to be left in a garage overnight, with us two on the side of the road? But I have removed my dashboard!!! The van works, and I have just driven through four countries to get here!!
Would it not have been better to ask? What about the report from the Belgium twat saying it just needs to follow the electrics under the dash for a short? CANT YOU JUST SEND OUT A MOBILE MECHANIC?????
Eventually I was told to talk to the mechanic when he arrived and organise it with him and if I needed to drive to a garage the next day, he could book me in and arrange it. Shortly after, a lovely young man who actually wanted to help turned up and identified the problem, which he couldn't fix, and recommended the above garage just out of town if we were unable to find a replacement part from the autobreakers in Rotterdam on Tuesday.
We got the sat-nav out and headed off bright and early Tuesday morning to the autobreakers hopeful in finding our replacement defective hazard light switch from a still popular Peugeot J5 ("yay five"). We entered reception to be head shaken at. No words, no movement from the telephone, no hello, goodbye, just shaken. "You mean..?" Shake. Bugger.
So off we trotted to Nootdorp, half way between Rotterdam and Den Hague, where we met this equally lovely and helpful man: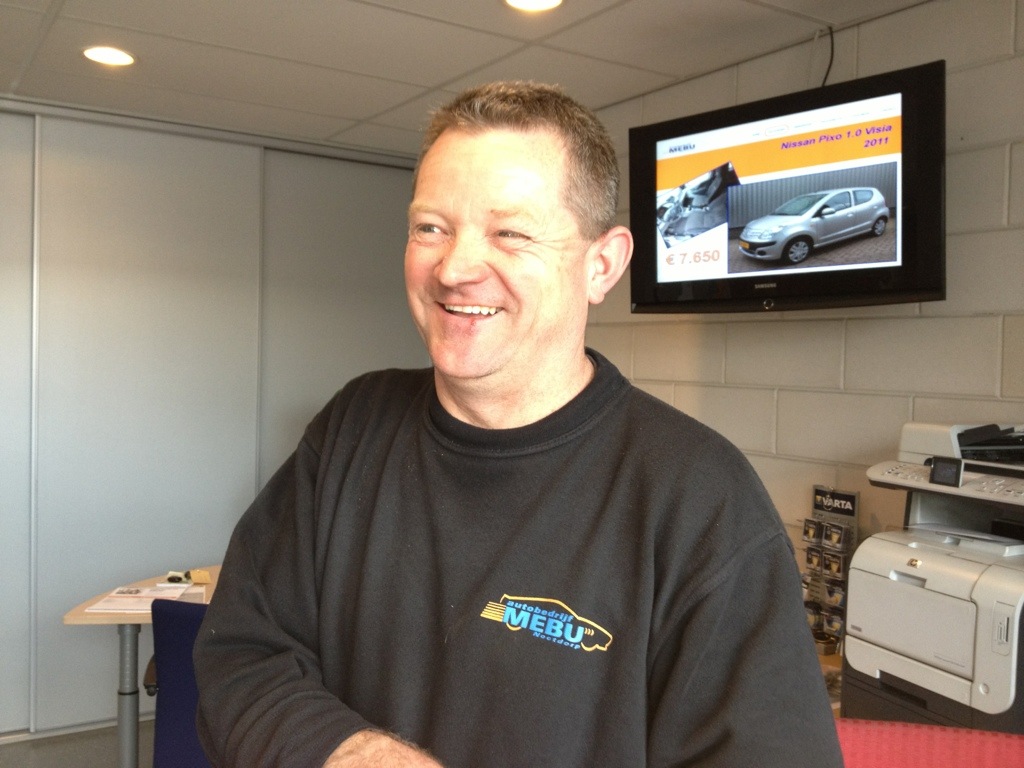 He asked for two hours to find a replacement switch, but he would have to drive out and do his best. Off we went for coffee and a stroll round the town and he called us back when he had sourced, not one, two replacement switches. Neither worked. Neither.
"Do you want a job?"
"When are you going home?"
"I'm not going anywhere until I have indicators apparently!"
"OK bring it in in the morning."
7am we got up. 7am. On holiday! But this was it, all or nothing. Leave it with the garage whilst getting a tram in to Den Hague and he would call us if and when it's done. The wonderful, not-enough-adjectives-in-the-world Men of Mebu had given us back our holiday! We bought them Cadbury's celebrations and took boss man's picture.
Italia 2013 here we come!!!!