Creative Workshop 3: Nude and Naked
Building on the session workshops you should explore notions of Nude and Naked through your work. You should make at least one study of yourself and another of someone else. You will need to bring your experiences from task one and two to bear as you explore the dynamics of vulnerability vis a vis yourself, the subject and ultimately the viewer.
You should spend time observing the context for your subject. You should look for and work with the different types of light, tone and colour, both in terms of your location context and the effects they have on your subject and the subsequent photographic artefact. Consider Paul Wright's words on life drawing :
"Look at the subject away from the camera – soak up your subject", "look for the lines that denote weight and gesture", "consider echoes of movement in a gesture – the image can be messy and doesn't have to be 'picture-perfect'".
Alternative/additional task: Nude and Naked Film
You should undertake the workshop above but with a mobile phone or video camera framed solely around a sketchpad and your hand – this time, rather than making images, you will be sketching both the self portrait and portrait.
If you are able to, record audio of the encounter and watch the film back afterwards – was it quiet? Awkward? Relaxed and talkative? Can you better understand your working from a review like this?
My Response
I knew after week one that I would be concentrating on myself as a geographical study and a cathartic study of myself in relation to my own feelings of abjectivism that I sometimes attach to the outside world. It was interesting to see the 
Joel-Peter Witkin
video which to start with looked exploitery, but then in his reasoning reminded me of Antonin Artaud's
Theatre of Cruelty
and the externalising of dark thoughts so that we expel them and not carry them with us and I understood where he was coming from. This is application of my idea made sense as it is my own thoughts towards my body that I need to expel.
To start with I wanted to almost clinically and critically photograph my body with all its flaws, almost forensically. This needed to be stark, but I chose to sidelight to give some light and shadow to the asymmetrical context. I chose a black background with low level lighting. An example of which is below. I really like how this one came out and it highlights one of the anomalies that occurs in Polands Syndrome.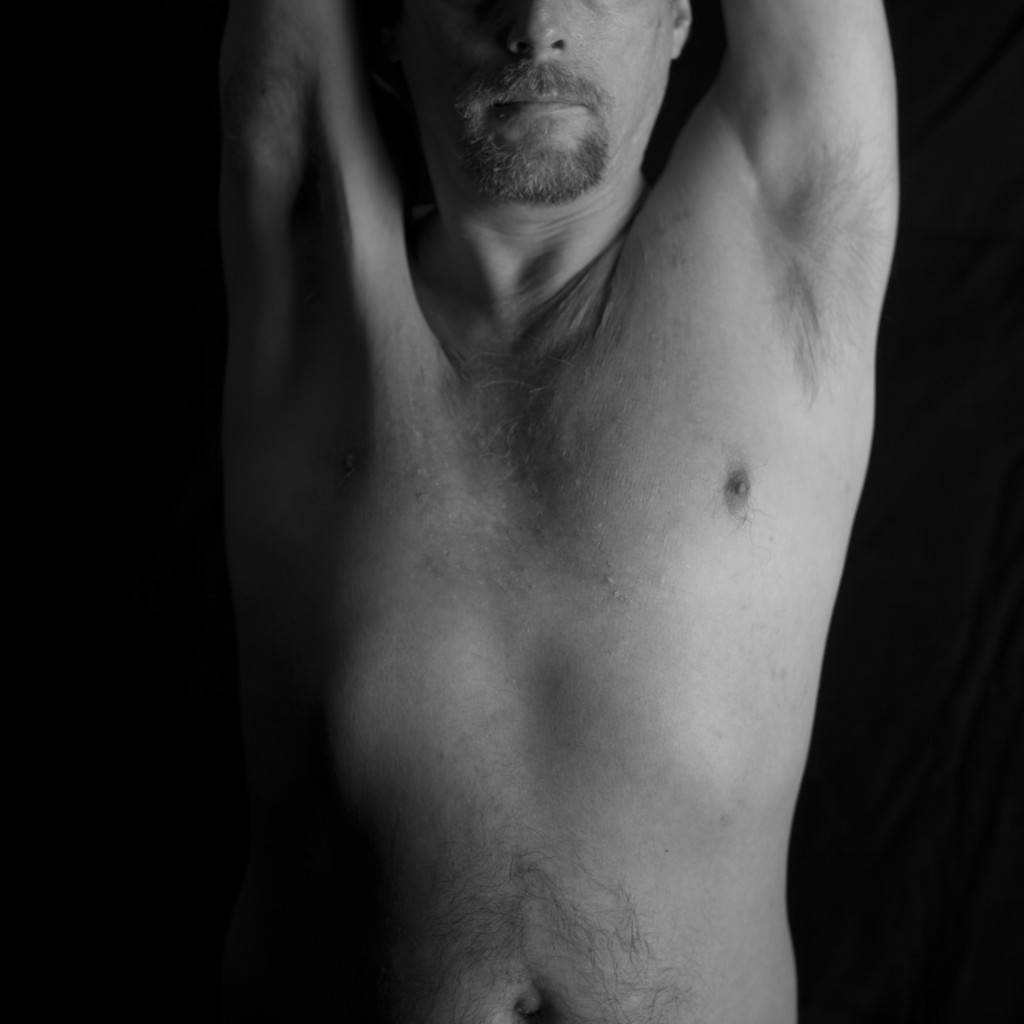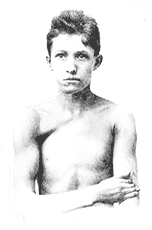 As well as this there is usually asymmetry in the length of the arms and the only image I had taken showing this was a full body image. In this image, it also reflected the very first image that I saw in a medical reference book relating to the syndrome (right) and I chose to keep the full image in.
When it came to deciding placements of the images around me, I like the feel of the environmental portraits as done by 
Alexander Bergström
 and so I wanted to photograph myself in my environment but surrounded by these external images. The one placement I was sure of was the framed photograph of my genitals or sexual identity confined within the cage, as I feel this is one of the resulting self-abjectifying habits. (It is there, but the print is difficult to see).
I first felt that I would be either seated or reclining in a relaxed manner like a renaissance nude, but when I shot and reviewed the image, I didn't look part of it, I couldn't be that distant from the surroundings, I needed to engage with the camera/viewer. By this point of the proceedings, a couple of hours in, my vulnerability with the camera had dissipated also, and instead of hiding, I almost possess a reproachful look to the camera/viewer. The placement of the tablet with the full body image also had come from a rear-side view into the central focus area which brought forward the point of this process.
In reviewing, I really like the fact that apart from everything else, my viewing eye is drawn to the left eye of my portrait almost asking "what is it you are seeing?"
Final image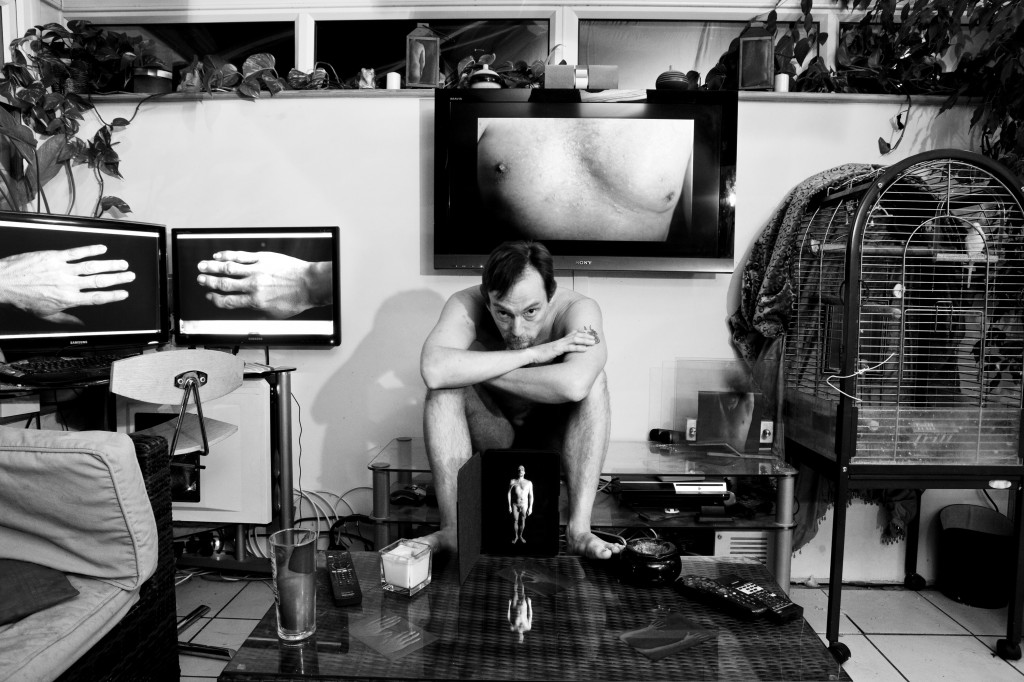 Unfortunately I don't have someone else to use as a subject at the moment to do the additional task or the second person in the first, but if one volunteers I will update this post.