Pride
All things were looking up as we passed the ferry port to Venice that we would catch Tuesday morning on the way to our campsite. We knew from the guide that it was just a couple of hundred metres along the road and we found it easily, though tucked back at the bottom of a hedged drive off the main road. As we entered the drive, a neighbour was trimming his side of the hedge, leaving himself and piles of unwanted leaves on the right hand side of the narrow causeway. I dropped down to second and passed as gently as I could before Justina shouted and the loud bang as my left hand wing mirror bracket tore itself off the camper and began to hang limply from the passenger door. I stopped and readjusted my course and eased around the corner to the gate to be met by three teenagers saying something to me in Italian. Not thinking straight, and now obviously embarrassed, it took the elder of the lads three times for me to take in what he was saying in English before my brain responded.
"If you want to stay, I need a copy of your passport." We rummaged and found one and I went inside and booked the place for 2 nights, allowing us plenty of time for Venice and plenty of showers (and pooping) before Justina's flight home. The 20 Euros a night fee had been budgeted for well in advance and so there was no shock factor, even some of the campsites around Venice had been asking a staggering 35 Euros a night, on a par with Lake Garda. We had done extensive research in to the best options for this case, dismissing two within 15km of Venice on the same coast because of the extortionate fees (there had also been a free one on our side of the peninsular, but we had discounted it on the lack of services).
"It is 25 Euros a night".
"I don't want electric thank you, no corrente."  We had been let stay for free at one place near Como as we didn't need electric because the solar panels provide enough for our use.
"It is inclusive in the price".
"Not according to your website it isn't". There had been a point where we had free internet and I had taken the opportunity, the ONLY time I had done it on the app, at looking at their website.
"Ok I can discount you to 22 Euros a night". He had a really big smile and stood with his arms open as I was signing the register.  I agreed and continued and then started sorting out the camper, which began with the process of emptying and refilling. As we were busying ourselves we kept thinking back to our stay in Degernau with Smiley and Wavey and their 5 Euros a night for a positive paradise of services and setting. The shower rooms here were haphazard, like a second block had been added on at a later date, by which time, they hadn't bothered to do one for the girls and one for the boys, just one of each in each block. It was only after I walked in on a lady that you realised that the signs for which were on the outside of permanently opened doors so you couldn't see them. I apologised (in French) and ran away.
Back in the camper over coffee I was stewing on the price. How could they blatantly not update their prices on the internet when it was specific for 2013 and stipulates a different price for with or without Electric? I got out my phone and brought the website up. How can they argue with black and white, with their own information? I left my coffee and with my phone in hand, got out of the camper in true British Abroad mode. The young man was still sat on a step with his friend.  I approached, smiling, as best I could and produced the phone showing their website prices on the screen.
"Yes it is wrong and we need to update it".
"Sorry. Why?" Realising instantly that there was going to be absolutely no point in continuing any discussion as all he would have to do is resort to his native language and I would be completely stumped and therefor without argument or comeback.
"It is the taxes, they are not enough and we have had to change them. This week." If he had left off the last two words he would have been completely believable and that would have been an end of it. However, all I got was a smug look and the intense feeling of having the piss taken out of me  in front of his friend. There were no adults around, I just imagined that his extra bit of money was going to buy them fags or beer, but there was not one thing I could do about it. All I could do is repeat the 22 Euros a night he had quoted and return to the camper with my tail between my legs, and contemplate plugging in the electric for the next two days to get my 4 Euros worth, but I never did.
Emotional
We headed out for the sights of Venice early on Tuesday morning. It was going to cost us 28 Euros just for the ferry trip to Venice and back, so we were particularly more acutely aware of not buying expensive ice creams in the main streets. I, more so than Justina because I hadn't let on, was equally aware of perhaps what it may be like after it being described to me as "After you've seen St Mark's Square, a Gondola and a canal, the rest of it is just repetitive, boring, dirty crap." Thankfully, to contrast this, I had visions of real life re-enactment of Assassin's Creed X-Box game and was overjoyed to find Assassin's Alley! We looked out for roof top hideouts, wells to hide in, corners to prostitute on and market stalls to sell our services as mercenaries and pretty much all of them made it to photos!
We spent the day walking the labyrinth of bridges and streets, not jealous of the 80 Euro fee for a gondola and gondolier. After finding some Eiscaffe in a pint container in a supermarket, I thought it would be good to try out an iced coffee in a coffee shop. So far, in the never ending search for a British Version of an Italian Latte, I have been having limited luck, and even more limited coffee portions. This time we were served iced espresso in a martini glass. My chin was as long as the stem. The best find so far has been McDonalds Strawberry Milkshake for 1 Euro (with the complimentary free WiFi) though how long this offer will last I am not sure.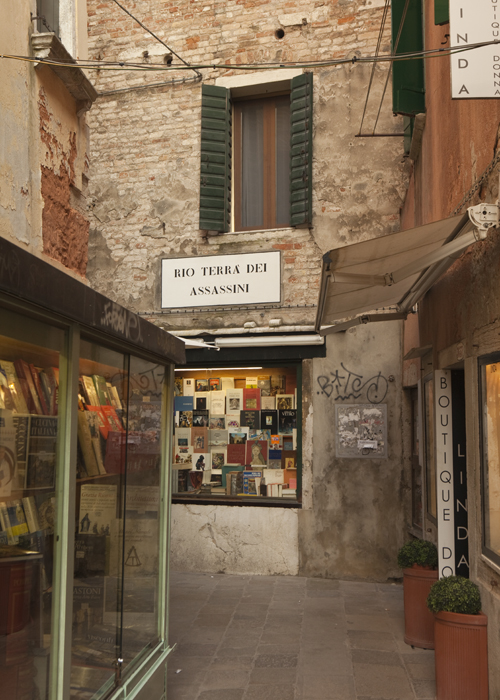 Wednesday was going to be an easy day with a last morning's proper unlimited water supply shower (still getting our 4 Euros' worth) and a leisurely drive back round to Venice airport and the camper stop next door. Knowing that the evening's task was a short sort out of packing ready for the off tomorrow, we left the camp site after lunch. At Lido di Jesolo, which seemed to be a very big tourist destination with theme parks and camp sites the size of Butlins, we knew that there must be the opportunity to get 4 Euros worth of Milkshake and an hours' free internet. Sure enough, we pulled in and ignored each other and the outside world for the best part of 90 minutes. We returned to the camper and its' completely flat battery.
"You are not in Germany?"
"No I am in Italy."
"You have no blinkers?"
"Well, no, but that's not what I am phoning about."
"I will call you back when I have a time for you. Bye!" After the van had started at lunchtime, I hadn't been sure that it was just a flat battery, after all, I have the small solar panel charging it up. When we had had the camper serviced before leaving the UK, we had been advised that the only thing likely to go wrong was the solenoid or the distributor cap and these were easy to replace, so we had ordered a couple of spares to come along. I managed to swap out the solenoid and test it to see if it was that and that made no difference and after lots of poking and prodding I managed to test a new distributor cap too and that equally didn't work, so putting it back as I found it, I made the call to ADAC.
Twenty minutes later, we had two mechanics pull up in a recovery truck and the boss talking ten to the dozen both at me and his employee and then down the phone to the ADAC call centre. He was going to take the camper back to his garage and then fix it tomorrow and after much toing and froing and English German Italian translation, we had declined the offer of a hotel, to stay in the camper outside his garage. When I asked questions, I was pointing in the direction of the garage and told someone speaks English there. All the time, boss had his foot on my accelerator revving the crap (and the petrol) out of the engine, whilst mumbling something about disaster and cylinders. The boss gave me instructions to follow after jump starting the van and his mechanic jumped in and drove the camper to garage, giving Justina enough time to find her seat in the rear, but not the seat belt.
The very nice lady who spoke English at the garage came out and I explained that whilst it was at a garage, could they please look at my blinkers. I was trying to explain that after tomorrow, there were no limitations on time, so if it took three to four days or even til next week, I would be happy. I stopped trying to explain when she glazed over and started telling me that the police may not be happy if I was camping on the main road.
We were informed to bring the camper in in the morning some time after 8am and they would get to work on it. We were given the directions for the bus stop for the airport and ADAC called to check he had understood where we were and where we were staying. We settled down with the mosquitos to pack and reflect over the last six weeks and what we had done, where we had been and how close to death we had come and on how many different occasions and in different ways. Justina contemplating the many different meals of beef that she could have when she returned home (once out here in a bought sandwich) and how she was looking forward to a real bed and her Dad's cooking. We slept apprehensively of the long day ahead.
At 7:20am we awoke, showered and were just sitting down to a coffee when boss and mechanic knocked on the door and before we could bat a half open eyelid, we were grabbing on to coffee, kettles and movable objects whilst trying to remain upright as the mechanic jumped into the driver's seat and was driving us in to the garage! After composing ourselves, we said we would come back at lunchtime to see how things were going and if it was likely that we would need to take the bus to the airport or not. We did and it was.
We spent a subdued journey to the airport, whilst Justina was quietly contemplating her flight and journey to be undertaken on her own, and I was thinking on the prospects of actually being alone in a foreign country that I was failing at getting the language of. We had plenty of coffee and cigarettes before it came to check in time and going through passport control and an emotional hug at the barrier. Whilst I waited for the return bus to the camper, feeling scared and isolated as everyone was talking in Italian (or German) around me, a poster on the wall opposite read 'Life is a journey and every journey is a story' and my mind drifted back to my time in France 20 years ago. Then I had learnt that you only get out of life what you put in, and I hardened my resolve to say yes, I will put it  in, as there is so much here that I can get back. I got the bus back to my mobile home.
Corporeal
I got back to the garage and went and had a chat to the mechanic and his boss, nay, his dad. He was still talking like a train and insisting only 3 out of 4 cylinders were working and the whole thing was a disaster. I had only just got confirmation that they would look at the indicators in the morning, but I had difficulty explaining what had happened before both with the indicators and the trying of the solenoid and distributor cap. Disheartened, I returned to the camper and drove it back on to the main road.
I spent the evening rebonding with Caravaggio and having a reorganising of the space now I was on my own. I felt that in doing so, and cleaning, it would help in getting the brain jiggling to think that this is how it's always been, not that we are missing another human being and therefor interaction in the space, hopefully to help me not feel lonely in the gap left by Justina. I did all this and then got in to bed and didn't draw the curtains. And then didn't get more than two hours sleep.
The good part about this was that I was up and about in time to deliver the camper myself to the mechanic at 8am, without having to try and hold everything together as we bobbed up and down the bumps. The downside was going to be how to keep myself occupied outside of the camper for 11 hours. I thought I would go and have breakfast where Justina and I had had it yesterday, where I succeeded in getting the closest thing to a latte so far, an Americano with milk, which was an espresso in a big cup with hot water and hot milk. During our visit yesterday, we had very nearly built up a rapport with the staff too, so this was very promising.
Over breakfast with the help of google maps on my Kindle Fire, I discovered a beach nearby and a bus route. This was a beach that bestowed the opportunity of the all over tan. I bought my return bus ticket from the machine, a steal at 3.50 Euros and after waiting an hour for a bus that had the destination on it that didn't come, I asked the next driver if he was going to Eraclea Mare.
"Eraclea, si. No Eraclea Mare."
Eraclea/Eraclea Mare, all the same I thought, like getting a bus to Brighton city centre and having to walk to the beach. "OK." I said and hopped aboard. As we entered Eraclea, sure enough there was the brown information sign for the "Mare" (sea) and I hopped off again and headed down that road. After breakfast and the time waiting on the bus it was now 11am and a glorious, cloudless day. I vainly undid the top two buttons on my short-sleaved shirt and headed off for the seaside. 7km and an hour and a half later I was thankful I had remembered to bring a couple of small bottles of water with me and I rehydrated myself before I got down to some serious tanning. I did well to remember to keep turning and interspersed the roasting with some basting in the Adriatic. I felt confident with the few second looks I got as I headed home from the beach 5 hours later, stocking up on water on the way and happily feeling a little tired.
By the time the man from ADAC called at 6pm to tell me the van was ready, I was shivering. The second delayed bus and I was worried I wasn't going to get back in time before they shut the garage and I was sure they weren't going to stick it back on the road, all fixed, without getting paid first. I had no idea about taxis and I was beginning to feel worse for wear. After the first bus only took me half way and I had to change at this mornings' drop off, it was 7pm before I finally made it back to the garage. In their office mirror I could see that I was lobster red. If this was just my face, I was concerned what the rest of me was going to look, but more importantly, what it was going to feel like. Though I have had severe burns to my face from a gas oven exploding before, that wasn't sore when you tried to walk in your trousers/shorts. Where you get the clothes line from your trouser band, it was cutting in on the skin making it feel like I was being twisted off like a Russian Doll. The bossed son was being polite and chatty as he was showing me round the van, but it was all I could do to concentrate and listen in a sun-stroked, drunken haze.
Fiscal
When I was a kid, I am sure my parent's despaired at birthdays and Christmases, because you could almost guarantee that before the week was out, I would have broken or taken to bits anything I was given. Oblivious to the fact myself, that anything I had done this to before had never worked again. Whilst my brother was painstakingly, obsessively, working out the Rubik's Cube for weeks, I had a pair of scissors in it within 24 hours of getting it, pulling it to pieces and putting it back together as new. Well, almost new. The fact that if you picked it up the middle square fell out was irrelevant, it looked like new on the shelf, and not some mass of jumbled colours reminding me that I actually wasn't clever enough to work it out. In fact, there are still a couple of spare bits of motorhome dashboard lying about which I haven't found homes for yet.
I now know that the dead battery is not my fault and that the alternator has died and needed a new one for the grand sum of 300 Euros plus tax. I know that no one is listening or understanding my explanation of me pointing at the distributor cap and the new distributor cap as I try and mime myself swapping them over. I have listened to the boss say 'disastro' on at least three occasions whilst shaking his head and tutting very loudly. But I know that the engine did not sound or feel as bad before I tried to fix things. How much is a new engine? How much work is involved in trying to sort out 1 cylinder not working? What does not getting pressure in the cylinder mean? What is even happening with the blinkers?
I know my Italian is crap and I run the risk of talking about horses when talking of engines, but I decided my best option was to write it down, this way they may understand something enough to not go straight in at the deep end and start ripping out the engine, when it may just be I have put something back wrong. So the night before my trip to the seaside and after my cleaning stint, I had a go, in as simplistic terms as possible, of writing down what I had done. I think the understanding of the blinkers came out best, even though I think I got the wrong term for lights. When I gave it to the boss's son in the morning, his faced looked as confused as mine does when his father talks at me.
Thankfully in the end it all worked out ok for the camper. Both the indicators and the cylinders were fixed with really only labour taken in to account. I had indeed misplaced cables on the distributor cap, hence it not firing in sequence and then sounding and acting like a cylinder had gone. The indicators were down to (two fingers coming together like the hand of God whilst spitting) a short in the wire. All still doubling the price of the alternator on its own.
I know the price and usage of the gas expense will come down, even the last canister was down to 22 Euros, but this is a heavy bill again and with the 200 Euros already gone out on gear linkage and first indicator failure (plus additional costs of added camp fees etc), this is continuing to bite into the available funds. I know what I really need to be doing is to be engaging with people, ideally having a coffee or a coke out in a bar in the evening. If I do, perhaps my Italian will improve and my whole experience of this country I've longed to have been immersed in for so long will be better. If I don't, I am going to continue to feel on the outside of it. It may be cheaper in Southern Italy, but if I travel down there, will I have the funds to do Tuscany justice? Will it be that I have to return home in half of the time that I planned to be away? Will Caravaggio finally be with fault for longer than two weeks? What is there left at home that I can sell? Hopefully I will have figured some of this out before my next post. Ciao miei amici.